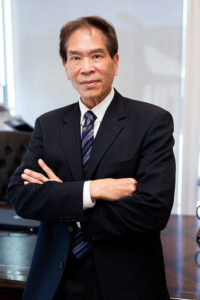 Dr. Lee has been improving the lives of patients for over 35 years. He began his practice specializing in sports medicine, providing care for our nation's most elite athletes while working with Olympic and professional athletes in the 1980s. An innovator at heart, he worked with Spalding and Max Muscle to design specialized work out equipment and programs. Notably, he pioneered novel training modalities, such as AquaJogger. Always on the cutting edge of healthcare, he further expanded his expertise in preventative care and wellness medicine and has helped thousands of patients to fulfill their body's full potential. He is a passionate educator in the field of hormone replacement therapy, having trained multiple physicians in the art of regenerative medicine.
Background
With a desire to have a more significant effect on his patients' lives, Dr. Lester Lee continued his education by turning to medical school after completing a background in pharmacy in the 1970s. He switched focus from conventional medicine to preventative care early in his career after noting that the allopathic approach alone did not stop disease progression. He began practicing preventative medicine with the intent of stopping disease before it manifests by optimizing the health of each patient. He uses an array of therapies including nutrition, botanical medicine, hormone replacement therapy, and specialized IV therapy to treat the source of the disease process.
Education and Training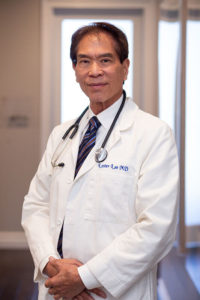 Dr. Lester Lee received his Bachelor of Science degree and his Masters of Science degree from UC Davis in Davis, California. He then went on to achieve his Doctor of Pharmacy from the University of the Pacific School of Pharmacy and his Medical Doctorate from the University of the Philippines and UC Davis.
Dr. Lee trained in an internal medicine residency at UC Davis Medical Center and a radiology residency at UC Irvine Medical Center, followed by a fellowship in sports medicine.
In addition to his private practice, Dr. Lee is an Associate Clinical Professor of Medicine at the University of Southern California (USC).
Sports Medicine
After having a successful athletic career in track and field at UC Davis, Dr. Lee decided to pursue a sub-specialty in sports medicine.
This training and experience led him to become the U.S. Olympic Committee Doctor for the 1988 and 1992 Olympic teams.
Dr. Lee has treated world-class Olympic athletes, health and fitness professionals, and individuals who hope to achieve overall wellness with hormone replacement therapy and specialty testing.
Certifications
Dr. Lee is licensed in the state of California. He is a diplomate to the American Board of Sports Medicine.
Awards and Acknowledgements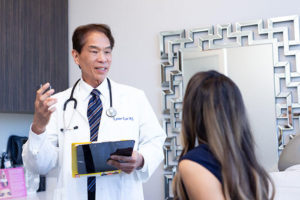 In his 30 years of professional experience, Dr. Lee and his team have received numerous accolades and acknowledgements, including being voted the 2019 "Best Medical Group Orange County" by the Los Angeles Times.
Dr. Lee is excited to be working with Dr. Terry Dubrow to offer his services to a broader audience.
In addition to multiple guest radio interviews on topics of hormones, thyroid, adrenal, toxic environmental exposure, weight loss, and nutrition, Dr. Lee has made frequent appearances on The Real Housewives of Orange County, and podcast interviews on Dr. and Mrs. Guinea Pig with Dr. Terry Dubrow and Heather Dubrow.
Areas of Expertise
Dr. Lee incorporates a multi-metabolic systems evaluation for every patient. This allows him to learn and evaluate how each system interacts with and affects the others.
As a medical wellness expert, Dr. Lee focuses on testing and treating:
Hormonal Imbalances – Female and Male
Nutritional assessment and IV Therapy
Weight management
Thyroid function
Adrenal function/Stress management
Food Sensitivity and Allergy Testing
Environmental Toxin Exposure
Sleep Quality
Brain Neurotransmitters- Inhibitory/Excitatory
Gut Microbiome Health
Genetic DNA Testing
Mindfulness
Immune Health
Visit Dr. Lee
1617 Westcliff Drive, Suite 207
Newport Beach, California 92660
Get Directions