What is Breast Revision?
Breast revision is a surgical procedure designed to correct unsatisfactory results from a previous breast enhancement surgery. This revision surgery can improve the shape, size, projection, and symmetry of the breasts. Depending on your condition, breast revision may involve the removal or replacement of your breast implant(s).
The benefits of Breast Revision
Restores a more youthful, attractive breast appearance
Improves self-image and confidence
Clothing fits better, allowing a wider variety of clothing options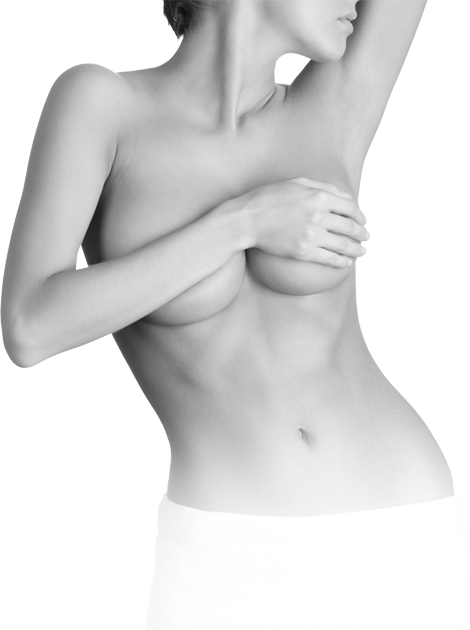 Common Reasons for Breast Revision
Capsular Contracture
This occurs when the fibrous tissue capsule that forms around the implant after surgery tightens and squeezes the implant. The breasts may become firm and distorted.
Poor Shape
Poor breast shape may occur as a result of complications or from poor surgical technique used during the primary procedure.
Rippling or Wrinkling
Patients with insufficient natural breast tissue to cover the implant or who have too large an implant placed may experience visible implant rippling or wrinkling through the skin.
Rupture or Leakage
A rupture occurs when the silicone shell of an implant breaks open or tears. An MRI may be required to detect a silicone implant rupture, while a saline rupture will usually display an obvious "deflation" of the breast.
Implant Shifting
If the breast implants have shifted from their original placement, revision surgery can reposition them into their appropriate location.
Sizing and Asymmetry
It is almost impossible to achieve perfect breast symmetry, but breast revision can correct a noticeable difference in the size, shape, and/or projection of the breasts.
Schedule a Consultation with Dr. Dubrow
FAQs
Who is a good candidate for breast revision surgery?

Patients who have significant dissatisfaction or abnormal-looking breasts as the results of a previous breast surgery are candidates for revision surgery. Ideal candidates are in good overall health and do not smoke. During your initial consultation, Dr. Dubrow will evaluate your circumstances to determine if you are a good candidate for breast revision.

Would it be best to have my original surgeon perform my revision surgery?

Although your original surgeon should know the details of your primary breast surgery, they may not be the best person to perform your revision surgery if they are not highly experienced in implant removal. A surgeon who specializes in breast revision will be more likely to achieve optimum results with reduced risks, and your primary surgeon should be able to provide your revision specialist with the details of your primary surgery.

Can I exchange my implant type or size during breast revision surgery?

In most cases, patients can change to a different implant size or type as long as it does not pose a significant risk. Dr. Dubrow will be able to give you more details about the options available to you with breast revision during your consultation.

What is the recovery like after breast revision surgery?

Recovery after breast revision surgery is similar to that of a primary breast augmentation but is often more extensive. Patients should limit their upper body movement and plan on taking at least one week off from work. After surgery, patients must avoid strenuous activities for a minimum of four weeks. It may take a few months for the breasts to settle into their final position. Your surgeon will give you specific directions to follow to ensure the safest recovery.

How long will the results of breast revision last?

The results of breast revision surgery are generally permanent unless a future complication occurs. The breasts will continue to age naturally over time.
In The

Media

Dr. Terry Dubrow featured on Media Planet: Future of Health Care: Avoiding a "Botched" Cosmetic Procedure
Stay

Connected
@drdubrow
follow on instagram