The Breast Holiday Ever!
Posted November 10, 2016 in Botched, Breast Augmentation, Breast Lift, Breast Reduction, Breast Revision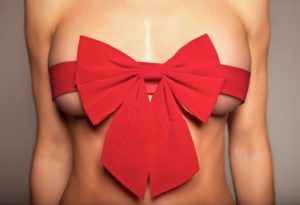 The year has gone by fast, and the holidays are quickly approaching. 'Tis the season to be jolly, but it may also be the season for breast surgery. If you are unsatisfied with the appearance of your breasts, why not give yourself a treat this holiday season and opt to get the breasts you have always desired. There are many options for breast surgery, and your procedure can be designed specifically for you and your needs. If you want to make this your best season ever and are interested in breast surgery, the only question you have to answer is, "Which breast surgery is right for me?"  
Lift and Shape the Breasts
Pregnancy and aging can cause some havoc on a woman's body, especially on the breasts. Many women who undergo breast surgery are looking to achieve more youthful and attractive breast contours. Breast lift surgery, or mastopexy, is an ideal procedure for altering the position and shape of the breasts. There are different types of breast lifts Dr. Dubrow performs at his practice:
Crescent lift:

Corrects minor sagging by making an incision on the upper half of the areolas.

Benelli lift:

Corrects slight sagging and breast asymmetry by making an incision around the areolas.

Lollipop lift:

Corrects moderate sagging and pointy nipples by tightening the breast tissue and repositioning the areolas.

Anchor lift:

Corrects significant sagging in the breasts and downward-pointing nipples by removing breast tissue and skin as well as tightening the remaining skin and repositioning the areolas.
Increase Breast Volume
Women who want to enlarge their naturally small breasts or restore lost volume due to pregnancy or aging may be ideal candidates for breast augmentation. Saline or silicone breast implants are placed through an incision either around the nipples, along the breast crease, or within the navel or armpit to increase breast volume and create a better breast shape. Breast augmentation can be performed alone or along with breast lift surgery to add volume and lift the breasts into a more youthful position.
Decrease the Size of the Breasts
When the topic of breast surgery comes to mind, many think of making the breasts larger. However, some women experience emotional and physical pain and discomfort due to overly large breasts. Breast reduction surgery is a procedure performed to decrease the volume and weight of the breasts by removing excess skin, fat, and glandular tissue. A woman can restore her confidence with smaller breasts and alleviate neck, back, and shoulder pain caused by pendulous breasts.
Correct Botched Surgery
Some women who have undergone a breast procedure later decide they are unsatisfied with the results. The reason for their dissatisfaction may be due to botched surgery or that their breast sizing is or has become too small or too large for their body frame. With vast experience in correcting botched procedures, Dr. Dubrow is no stranger to seeing women who were displeased with their original results.
Depending on the woman's situation and goals, Dr. Dubrow will design a breast revision surgery that will best achieve the breast shape, size, projection, and symmetry she is hoping for. This procedure often requires the replacement or removal of a breast implant. Dr. Dubrow will help you decide on the best approach to help you achieve great results. He can help a woman to restore her breasts and feel confident about her body overall.
To learn more about your breast surgery options, schedule your consultation with Dr. Dubrow today! Whether your interest is in a breast enhancement or breast revision surgery, he can offer you the latest plastic surgery techniques to ensure a safe and effective procedure. Contact us by calling (949) 515-4111 or by filling out our online contact form.