Breast Revision After Pregnancy
Posted December 16, 2013 in Breast Augmentation, Breast Implants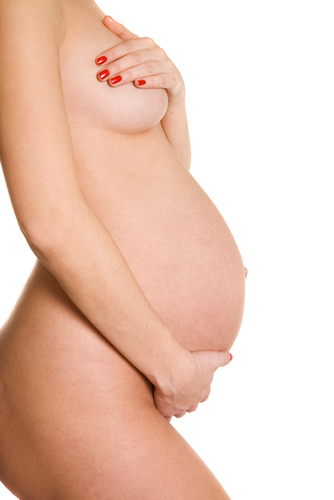 The decision to undergo breast augmentation is a major decision for most women, and it is often a positive one. In fact, it is one of the most sought-after procedures and has the highest patient satisfaction rates. Not only does a breast augmentation enhance one's body image, but it also boosts a woman's self-esteem. As the top cosmetic surgery performed today, it is common to have breast implants, even prior to having children. Yet, there is a lingering concern for how a woman's breasts will look after pregnancy and how it will affect the breast implants themselves.
Pregnancy affects every woman differently, and the effect it has on the breasts also varies. Just as the size of the breasts increase during pregnancy, so too does their tenderness and sensitivity. A change in a woman's hormones during pregnancy also causes a darkening of the areolas (the colored skin around the nipples) and veins in the breasts. The breasts become engorged as they prepare for lactation and the stretching and shrinking of the breast tissue may cause some degree of ptosis (drooping or sagging).
Regardless of all the changes that may occur, pregnancy has no effect on the integrity of the implants themselves. However, the breast gland will atrophy in the tissue surrounding the implants and may become smaller after pregnancy and after the breasts are no longer lactating. Typically, the skin is often left stretched, which may tend to sag around the implant. Whether the skin is capable of shrinking back down depends on multiple factors, including the woman's age, inherent skin quality, sun exposure, smoking, and the amount of breast tissue enlargement, etc. Therefore, although the breast implants remain intact, the changes that occur during pregnancy may jeopardize the results of the initial breast augmentation and require future surgery. If a woman's breasts develop some sag after pregnancy, larger implants or a breast lift may be able to restore the pre-pregnancy appearance of the breasts. A consultation with a board-certified plastic surgeon will determine which procedure would best achieve the desired results.
If you think that you may be a good candidate for breast augmentation surgery, contact our board-certified plastic surgeon Dr. Terry Dubrow. At his Newport Beach practice, Dr. Dubrow regularly performs breast augmentation surgery for women all over Southern California. He looks forward to meeting you and discussing your options for breast enhancement to achieve the look that you desire. Please call (949) 515-4111 or fill out our online contact form to schedule your consultation today.