Size Matters with Breast Implants
Posted December 31, 2013 in Breast Augmentation, Breast Implants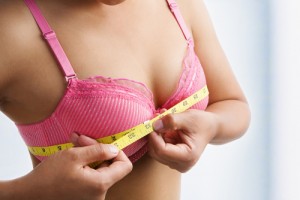 Getting a breast augmentation is an increasingly popular procedure that many women consider when they want to change the shape, look, or most commonly, the size of their breasts. Deciding which size implant to get can be a stressful decision because most women want that "perfect" look that is just right for them. Some worry about going too large and desire a petite and more natural look for their breasts. Others often worry about not going large enough and lean toward the cliche that "bigger is better." Either way, it is safe to say that when it comes to choosing breast implants, size matters.
More often than not, many women come to a consultation with a larger breast size in mind, but there are many factors that fall into play before an experienced cosmetic surgeon will recommend a larger implant size. First and foremost, it is important to take into consideration the implant size that the breasts are physically able to withstand. Not every individual's body is built to accommodate large breast implants. Oversized implants may cause long-term complications, such as pressure atrophy, bottoming out, tissue thinning, stretch marks, and capsular contracture. In fact, according to the 2005 study published in the medical journal Annals of Plastic Surgery, there was a higher complication rate associated with implants that were larger than 350 ml (350 cc) in size.
A consult with a board-certified plastic surgeon will determine which implant size is best suited for the individual patient. The surgeon will evaluate the woman's chest wall width, the amount of breast tissue available, and the quality of skin before determining the amount of cc's (cubic centimeters) that will best achieve the desired volume for their patient. It is recommended for women to bring in photos of the look they aspire to have to aid the surgeon in determining which size implant to use. Often, patients have a hard time understanding that the size of an implant is determined less by cc's and more by dimensions. Depending on one's body type and existing breast tissue, the same size implant may achieve entirely different outcomes. Since implant size does not determine cup size, it is important that you and your surgeon thoroughly discuss the end results you desire.
If you are considering breast augmentation, we encourage you to contact our board-certified plastic surgeon, Dr. Terry Dubrow. At his Newport Beach practice, he regularly performs breast enhancement procedures for women all over Southern California. Dr. Dubrow will personally meet with you to discuss your options for breast augmentation to achieve the look you desire. Please call (949) 515-4111 or fill out our online contact form to schedule your consultation today.