Looking Forward to Turning 40
Posted October 30, 2013 in Injectable Fillers, Laser Skin Resurfacing, Skin Care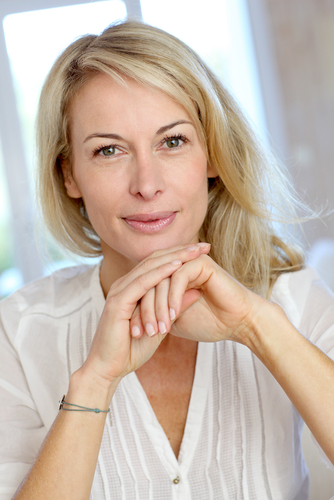 Aging gracefully has never been so easy, especially with all the products and cosmetic procedures available today. Here are a few tips that will help you look your best as you embrace this new chapter of your life.
40 is the New 30!
 Turning 40 used to be the most dreaded age for most women – typically the age when they sought the help of their local plastic surgeon. From face lifts to neck lifts, women hitting the "big 4-0" would endure long surgeries and painful recoveries just remove a few wrinkles. Now, with the advancements in minimally invasive procedures, women can regain a more youthful appearance with just a few treatments.
At Dr. Dubrow's Newport Beach medical spa, patients may choose to undergo a variety of facial rejuvenating procedures. Some of these include injectable fillers, laser procedures, and skin care treatments. If you want to fill in those lines around the mouth and nose, Juvéderm® XC or Restylane-L® may be right for you. Perhaps you would like to improve your skin's tone and texture? A laser treatment, such as Fx CO2 Laser resurfacing, can help restore a more youthful glow.
Not only can these minimally invasive procedures help you maintain a younger-looking appearance, but hair and makeup can also play a large part in aging gracefully. As women age, their hair often begins to thin and becomes finer. While color treatments can help hide some grey hairs, they can also provide texture and the appearance of thicker hair. Visit your hairstylist to get some tips on how to revamp your aging hair.
You may also want to look into some new makeup techniques. A dark smoky eye may sound like a sure-fire way to look more youthful, but it can actually make your eyes look older and droopier. Instead, try a brown/gold smokey eye to brighten up your eyes and give your entire face a more awakened look. An extra tip – skip the dark lipstick, try a peach or nude pink lipstick. These colors look great on everyone and can give you a more refreshed look.
If you're ready to make 40 look fabulous, contact our board certified plastic surgeon, Dr. Terry Dubrow. Dr. Dubrow and his team can help revitalize and rejuvenate your look. You may schedule your appointment by calling (949) 515-4111 or filling out our online contact form.