Pregnancy After Tummy Tuck: Expecting the Unexpected
Posted November 16, 2014 in Revision Surgery, Tummy Tuck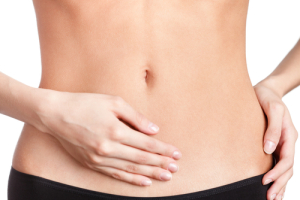 Tummy tuck surgery is a popular option for men and women who have sagging skin as a result of massive weight loss, but it is an even more common choice for women who have had multiple pregnancies. Ideally, women who choose a tummy tuck are finished having children since they want to repair the stretch marks, separated abdominal muscles, and sagging skin that pregnancy gave them. Sometimes though, "life" happens, and an unexpected pregnancy can occur after a tummy tuck. While pregnancy after a tummy tuck is completely safe, it can partially or completely "botch" the results of the initial tummy tuck surgery and create the need for revision.
Revision Tummy Tuck
No matter the cosmetic procedure, revision surgery is always more complex than the first. The surgeon must deal with scar tissue and old incision lines from the first surgery, and it is often difficult to predict the extent of these challenges until surgery begins. A revision tummy tuck might require the incision to be higher than the old incision line, and there may need to be a vertical scar along with the horizontal scar. Recovery time might also be longer than it was with the initial surgery.
Dr. Dubrow is a revision surgery specialist and frequently performs secondary tummy tuck surgery when pregnancy or other uncontrollable factors affect the initial results. As seen on the popular television show Botched, his experience allows him to overcome some of the common challenges with revision tummy tuck surgery to provide the firm contours, minimal scarring, and shorter recovery time that were (or were not) established with the first tummy tuck.
Although successful results can be achieved with a revision tummy tuck after pregnancy, it is still best for women who plan to have children in the future to wait until they are finished having children before undergoing the procedure. With a toned and sculpted abdomen, women can enjoy your their body with plenty of confidence for years to come.
If you are interested in tummy tuck or revision surgery with board-certified plastic surgeon Dr. Terry Dubrow, please schedule a consultation at his Newport Beach practice. Call 949-515-4111 or fill out our online contact form today.